Amanda & Frank were in Florida for work a few weeks ago and bought Gavin the cutest outfit while at Universal Studios Orlando. Look how adorable the little shorts are!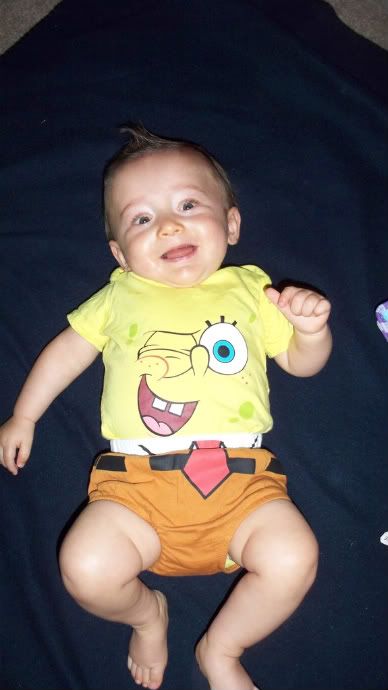 Thanks for the awesome outfit Auntie Amanda and Tio Frank!
The past few weeks have been very busy so I apologize for not keeping up with my weekly blog. Gavin came down with his first cold on Monday morning :( It just breaks your heart to see your child sick and sneezing. We couldn't get an appointment at the doctor's until Tuesday so Monday night I had to sleep sitting up on the couch with Gavin laying on me because he was having such a hard time sleeping laying down flat on the bed. Grant met my Mom and Gavin at the doctor's office and it was just a mild cold, they gave him antibiotics and the next morning he seemed fine. At least the medicine helped him sleep at night. He now weighs 17 1/2 pounds, I can't believe that's still only the 10th percentile for his correctional age, he seems like such a fatty LOL We have been giving him the medicine all week and besides coughing attacks in the middle of the night, he seems to be feeling much better.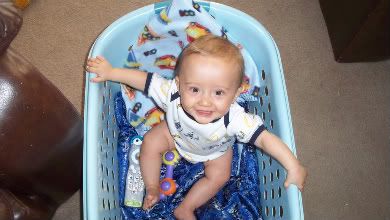 The Doctor also mentioned that he was getting a tooth! I have been checking the last few days and I think his bottom left front tooth is coming in:) I can't wait until he has a cute 1 tooth smile!!! We go back to the Pediatrician in a few weeks for his 9 month checkup and flu shot. RSV season is quickly approaching and everyone in our families will also be getting the flu shots, we can't risk Gavin getting sick. We will be on lock down for the next 8 months until RSV Season is officially over. RSV is very serious for preemies and we apologize in advance for all the fun activities we will be missing this winter. I feel that many people think we are overreacting when we don't take Gavin out of the house or yell at them to wash there hands before they touch him but please understand that if Gavin contracts RSV the chances are very high that it will turn into pneumonia. I have enclosed some RSV info below
What You Should Know About RSV
Although RSV is the most common cause of respiratory tract infection in children under five years of age, most people are unfamiliar with the disease. RSV can be particularly serious in infants born prematurely, children under the age of two suffering from chronic lung conditions, and young children with hemodynamically significant congenital heart disease. Multiples are also at increased risk for serious RSV disease.
Virtually all children are exposed to the virus during the first two years of life and re-infection throughout life is very common.2 Infants born at less than 36 weeks gestational age are at a significantly elevated risk for severe RSV disease. According to the Centers For Disease Control and Prevention (CDC), each year, up to 125,000 children are hospitalized with serious RSV disease and some of these children may die from RSV complications.3
For otherwise healthy children, RSV usually amounts to little more than a cold. However, for preemies and other at-risk infants, the health consequences can be much more serious. In the US, approximately 125,000 children are hospitalized each year with serious RSV disease and sadly, some of these children die.
RSV spreads easily from person to person via respiratory secretions. The chance of spreading the virus within a family is very high. Many times school-aged children introduce the virus into the family. Despite strict infection control procedures, hospital nursery units, day care centers and other similar institutions are also at high-risk for RSV outbreaks.
To help protect your baby, there are simple steps that parents and caregivers can take:
Have family members and caregivers wash their hands with warm water and soap before touching the baby (see more about proper hand washing)
Avoid being around the baby if you have a cold or fever
Avoid exposing the baby to other children with cold symptoms
Keep the baby away from crowded places
Never smoke around the baby
Talk to your baby's pediatrician about RSV risks and prevention
We also received some sad news on Monday that one of our co-workers at UGMC (our old company, my Dad still works there) past away from lung cancer. Al was a few months shy of his 80th B-Day and lived a long, wonderful life. He was Grandpa to all of us at UGMC and will be missed greatly. Grant and I went with Dad to the funeral today. It was very interesting to say the least, half of it was in Armenian and half was in English, needless to say we didn't understand much. Thank God they did some in English. It was nice to see all of our old co-workers and catch up. RIP Khosrow Aljian, you will be missed.
My cousin and his girlfriend will be here this week from England. Mom is meeting them at the winery on Friday and bringing them home with her. We have been planning on taking them up to Big Bear for the weekend to attend Oktoberfest for Josh's 30th B-Day but Josh started a new job a few weeks ago and doesn't feel right asking for the weekend off this early in the new job. If Josh can't get off work I think we may just take them to Magic Mountain one day and Hollywood or Venice one day. I guess we'll just play it by ear. Hopefully it all falls into place.
Have A Great Week Everyone!